.
PROBLEM:
I have built a new house and there is mud on the bottom third of the wall. How do I remove the mud without damaging the brick or mortar?
DESCRIPTION:
Mud and dirt from the surrounding soil has splashed onto the brick. The result is a dirty appearance to the lower portion of the brick. The picture below depicts an example of this problem.
PICTURES: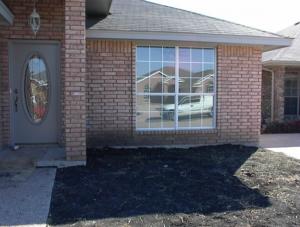 SOLUTION:
1. Check with your brick contractor to ensure that you do not have some sort of coating that could be mistakenly removed with the dirt.

2. Using PROSOCO SURE KLEAN Restoration Cleaner and a stiff brush, clean a test portion of the less-visible portion of the wall. Let this dry completely to ensure desired results were achieved.

3. If the test portion was not cleaned adequately, a pressure washer can be used. Use a 40o fan tip nozzle and stay at least 1 foot from the wall. Do not use more than 1000 psi on the pressure washer..

The only prevention is landscaping. To minimize the effort of cleaning, apply PROSOCO Weather Seal Siloxane PD as per manufacturer's recommendations. On extremely porous surfaces, use PROSOCO Custom Masonry Sealer.

See also Cleaning Dirty White Brick
SUPPLIERS:
PROSOCO offers a full line of masonry cleaners and sealers. Contact them at www.prosoco.com or 800-255-4255.

Search for service providers in your area.
Search for suppliers in your area.