.
PROBLEM:
Water damage to painted column.
DESCRIPTION:
The picture below is a great example of the damaging effects of water.
PICTURE: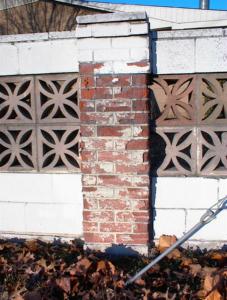 SOLUTION:
To stop further deteriation of the brick, the following should be done.

Remove the remainder of the paint using PROSOCO's HD Paint Stripper.

Apply 3 cycles of Weather Seal H40 as recommended by PROSOCO's manufacturer's recommendations.

Alway test solution on small area before applying to entire area.
SUPPLIERS:
PROSOCO offers a full line of masonry cleaners and siloxane. Contact them at www.prosoco.com or 800-255-4255.

Search for suppliers in your area.