.
PROBLEM:
I had vines on my brick. When I removed them, the root structure is still attached to the bricks. How do I remove them?
PICTURE: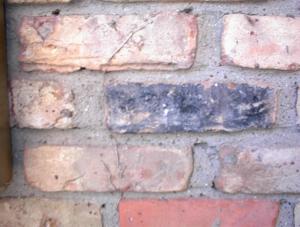 SOLUTION:
Clean with 766 Masonry Prewash as manufactured by PROSOCO. Allow to dwell for one hour. Do not let dry. Pressure rinse with Limestone Afterwash.

Please adhere to manufacturer's recommendation.

Do test panel to ensure desired results.

DO NOT USE MURIATIC ACID!
SUPPLIERS:
PROSOCO offers a full line of masonry cleaners.
Contact them at www.prosoco.com or 800-255-4255.

Search for service providers in your area.
Search for suppliers in your area.