.
PROBLEM:
I have roofing tar on my brick. How do I remove it?
PICTURE: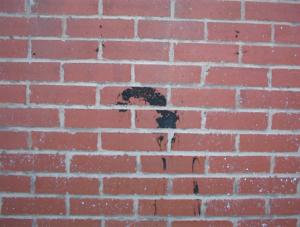 SOLUTION:
Clean with SURE KLEAN Asphalt and Tar Remover or SURE KLEAN Fast Acting Stripper as manufactured by PROSOCO.

Please adhere to manufacturer's recommendation. Always test solutions on small area before applying to entire area.

DO NOT USE MURIATIC ACID!
SUPPLIERS:
PROSOCO offers a full line of masonry cleaners.
Contact them at www.prosoco.com or 800-255-4255.

Search for service providers in your area.
Search for suppliers in your area.