.
PROBLEM:
The bricks on my home have rust stains on them.. What can I do to remove these stains and prevent future stains?
PICTURES: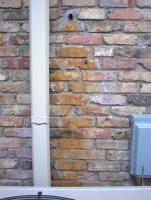 SOLUTION:
The bricks should be cleaned with PROSOCO SURE KLEAN 800 Stain Remover as per the manufacturer's recommendation.

Always test the solution on a test panel.
SUPPLIERS:
PROSOCO offers a full line of masonry cleaners.
Contact them at www.prosoco.com or 800-255-4255.

Search for service providers in your area.
Search for suppliers in your area