/
PROBLEM:
I applied a sealer to my brick pavers and some areas of the pavers are turning white and also appear to be flaking. What do I do?
PICTURES: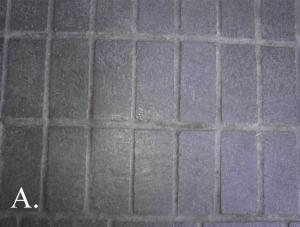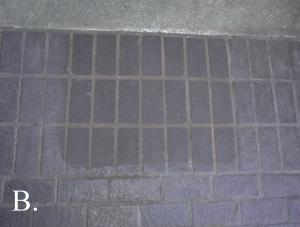 SOLUTION:
Most sealers applied to pavers are film formers, these being acrylics and urethanes. If moisture is trapped under the sealer, the pavers will blush white and eventually flake off.

The sealer needs to be removed. This can be done with PROSOCO SURE KLEAN Fast Acting Stripper or may be wiped up with tolulene. Both methods require extreme caution and must be done according to manufacturer's recommendations.

After all sealer is removed, the area should be allowed to thoroughly dry before reapplying. In order to achieve a wet look, you will need to use the acrylic. If you decide that the wet look is not that important then you can apply a penetrating water or a stain repellent.

In the pictures above, A depicts a sample of this problem. Picture B illustrates a test panel that was cleaned using PROSOCO Fast Acting Stripper and sealed with PROSOCO SLX100 Water and Oil Repellent. Note that this picture was taken approximately two years after the test panel was made.
SUPPLIERS:
PROSOCO offers a full line of masonry cleaners and sealers.
Contact them at www.prosoco.com or 800-255-4255.

Search for service providers in your area.
Search for suppliers in your area.