.
PROBLEM:
The brick wall surrounding my yard has developed a dark stain on the higher bricks. What is causing this and how can I fix it?
DESCRIPTION:
You may be experiencing the effects of moisture penetrating the cap on the wall. The moisture seeps through the cap and into the higher bricks. The existence of the moisture has allowed mold and mildew to grow on the brick and thus cause the discoloration. The picture below illustrates an example of this.
PICTURE: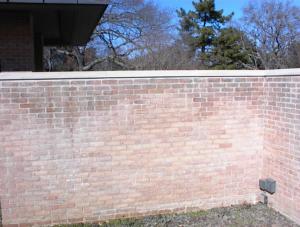 SOLUTION:
Clean with EK BioKlean as manufactured by PROSOCO. Use per the manufacturer's recommendations.

To reduce the possibility of reoccurrence, apply a water repellant to surface. In most cases this would be Weather Seal PD. Extremely porous surfaces may require the use of Custom Masonry Sealer as manufactured by PROSOCO.

Please adhere to manufacturer's recommendation.



DO NOT USE MURIATIC ACID!
SUPPLIERS:
PROSOCO offers a full line of masonry cleaners. Contact them at www.prosoco.com or 800-255-4255.

Search for service providers in your area.
Search for suppliers in your area.