.
PROBLEM:
I have a hard white substance that is appearing on the face of my brick and it is not efflorescence. What could this be and how can I remove it?
DESCRIPTION:
The pictures below depict a problem known as a lime run. This problem is caused by moisture entering the wall cavity and emerging through a hole in the face of the brick. The water brings with it lime which is deposited on the face of the brick. The lime is very hard to remove.
PICTURE: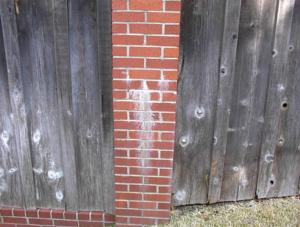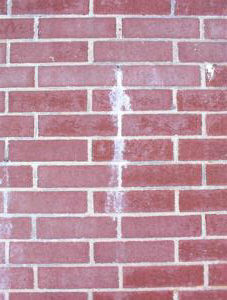 SOLUTION:
Before cleaning the brick, you must first determine how the moisture is getting into the wall cavity. After resolving the moisture entry by either repairing the wall or using a water repellent on the brick, proceed to clean the lime stains.

Use Sure Klean Heavy Duty Concrete Cleaner or Sure Klean Custom Masonry Cleaner as manufactured by PROSOCO. Please adhere to manufacturer's recommendation for usage.

Always do a test panel to ensure proper results.



DO NOT USE MURIATIC ACID!
SUPPLIERS:
PROSOCO offers a full line of masonry cleaners.
Contact them at www.prosoco.com or 800-255-4255.

Search for service providers in your area.
Search for suppliers in your area.