.
PROBLEM:
I have a Used Effect Brick (UEB) brick on my home and it has turned black at the base of the wall. Can this be cleaned without damaging my brick?
PICTURE: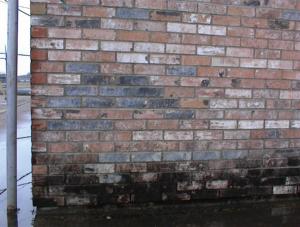 SOLUTION:
Yes, the brick may be cleaned with PROSOCO Bio Klean. On this type of brick you will need to use a brush and a water hose. Do not use a pressure washer. The cement slurry which coats the brick could be removed by the pressure. As always, do not use Muratic Acid as it will attack the cement slurry. To minimize future problems with mold and mildew apply a Weather Seal Siloxane PD or, on extremely porous brick, use Custom Masonry Sealer. Both products are manufactured by PROSOCO and should be used as specified.

Always do a test panel to ensure proper results.



DO NOT USE MURIATIC ACID!
SUPPLIERS:
PROSOCO offers a full line of masonry cleaners and sealers.
Contact them at www.prosoco.com or 800-255-4255.

Search for service providers in your area.
Search for suppliers in your area.